In Safe Hands Toolkit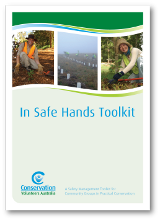 In Safe Hands is a Safety Management System designed for community groups in practical conservation. The content and processes have been adapted from Conservation Volunteers Australia's own system and is based on 30 years of knowledge and experience in managing volunteers in practical conservation. Recent enhancements and access to this toolkit and workshop opportunities for Landcare and other community Groups has been made possible through funding from the Australian Government's Caring for our Country initiative.
All Groups who wish to use the manual must register their details, via the registration process on the In Safe Hands website to receive the In Safe Hands Toolkit, workshop updates, content updates and support.
Registrations will be open until June 30 2013.
The Comprehensive Manual

Occupational Health and Safety policy
Safety Management and Guidance notes
Risk assessment information and format
Induction for volunteers
Set of pro forma documents to address all aspects at the work site

Training
Training workshops will be offered under the Caring for our Country project in select locations across the country from February to July 2013. Visit www.insafehandstoolkit.com.au for details and updates.
A training DVD will also be available in 2013.
Additional workshops are available on request email insafehands@cva.org.au for details.